Neil Young took to the stage last night (June 30, 2023) at The Ford, Los Angeles for his first solo show in four years last night.
Young had promised fans that this tour would focus around songs that he's never, or rarely, performed live before.
"I don't want to come back and do the same songs again," he said. "I'll feel like I was on some sort of carnival ride. I'd rather be doing these others songs I haven't done…. I won't have to compare how I'm doing 'Heart of Gold' to [how I played it in] 1970, 1980, 1990, 2000, 2010, 2020."
In the end, he drew the set list from the span of his career, from Buffalo Springfield and CSNY to his latest album, World Record. Most interestingly, perhaps, were the cluster of songs from his peerless run of '90s albums, Ragged Glory, Sleeps With Angels and Mirror Ball. He did, hilariously, also play "Heart Of Gold".
The set list, thanks to Sugar Mountain, was:
I'm The Ocean (Mirror Ball)
Homefires (unreleased)
Burned (Buffalo Springfield)
On The Way Home (Last Time Around)
If You Got Love (unreleased)
My Heart (Sleeps With Angels)
A Dream That Can Last (Sleeps With Angels) *
Song X (Mirror Ball)
Prime Of Life (Sleeps With Angels)
When I Hold You In My Arms (Are You Passionate?)
Mother Earth (Natural Anthem) (Ragged Glory)
Ohio (CSNY single)
Days That Used To Be (Ragged Glory)
Don't Forget Love (Barn) *
Heart Of Gold (Harvest)
Love Earth (World Record) *
Four Strong Winds (Comes A Time)
* song debut
Young's next show at the Ford is tonight (July 1).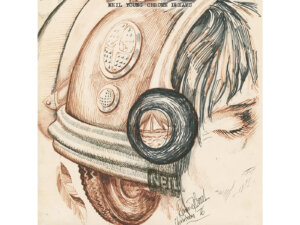 Young has also announced that his great lost 1977 album Chrome Dreams has been confirmed for release on August 11 via Reprise Records.
Chrome Dreams is available to pre-order here and includes an instant download of a previously unreleased version of "Sedan Delivery", which you can also hear below.
Young originally recorded the songs on Chrome Dreams between 1974 and 1977, but the album ended up was never released – adding to the pile of 'lost' albums Young accumulated during his career along with Homegrown and Toast.
Although many of the songs on Chrome Dreams eventually made their way onto other Young albums – including American Stars n Bars, Comes A Time, Hawks And Doves and Rust Never Sleeps – they exist here in different or tweaked versions.
Chrome Dreams tracklisting:
Pocahontas (August 11, 1976)
Will To Love (December 3, 1976)
Star of Bethlehem (December 13, 1974)
Like a Hurricane (November 29, 1975)
Too Far Gone (September 5, 1975)
Hold Back The Tears (February 6, 1977)
Homegrown (November 19, 1975)
Captain Kennedy (August 11, 1976)
Stringman (March 31, 1976)
Sedan Delivery (May 22, 1975)
Powderfinger (August 11, 1976)
Look Out for My Love (January 20, 1976)