Beth Gibbons has joined with The Miraculous Love Kids to mark the 2 year anniversary of the Taliban regaining control of Afghanistan.
They have recorded "Atmosphere/Heroes", combining Joy Division's "Atmosphere" with David Bowie's "Heroes", which you can hear below.
The Miraculous Love Kids are a group of Afghan girls who sing, play guitar and record music and who, along with their families, were able to take the journey from Kabul, Afghanistan to Pakistan, Islamabad to escape the Taliban. You can read more about them by clicking here.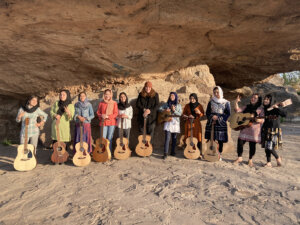 The group was founded by American musician and activist Lanny Cordola.
"I was so honoured to guest on the Miraculous Love Kids' reconstructed cover track 'Atmosphere / Heroes' and to be a voice next to these brave and beautiful girls of Afghanistan," says Gibbons.
Credits for the song are:
Produced by Lanny Cordola and Sarmad Ghafoor
Engineered and mixed by Sarmad Ghafoor
Drums: Joel Taylor
Bass: William Dagsher
Guitars and Vocals: The Miraculous Love Kids
Guitar: Lanny Cordola
Lead Vocals: Beth Gibbons