Acetone will release I'm still waiting. on November 17 via New West Records.
You can hear a previously unreleased demo of "No Need Swim" from the box set below.
Formed in 1991, Acetone consisted of Mark Lightcap on guitar and vocals, Richie Lee on bass and vocals and Steve Hadley on drums. The band disbanded after Lee committed suicide on July 23, 2001, aged 34. A book about the band, Hadley Lee Lightcap, is highly recommended.
The 11-album box set includes their full-length studio albums: Cindy (1993), If You Only Knew (1995), Acetone (1997), and York Blvd. (2000). The collection also includes their debut EP, Acetone (1993), the mini-album, I Guess I Would (1995), and the nine-song bonus album, Prime Cuts. Spanning 63 total tracks, I'm still waiting. features eight previously unreleased recordings.
All of the full-length albums have been expanded to double album housed in gatefold jackets, and If You Only Knew is available on vinyl for the first time ever. Additionally, the Acetone album features the band's original mix, previously available only on rare first pressings, and is pessed on crystal clear vinyl.
The set also includes a 60-page, full-colour book featuring never-before-seen photos and extensive liner notes written by Spiritualized's Jason Pierce and Drew Daniel of Matmos and the Soft Pink Truth.
You can watch an unboxing of the set here:
Says Mark Lightcap, "It's amazing to me how much love there is for Acetone out in the world, especially considering how few records we actually sold at the time. That love, unrequited as the catalog moldered in record company vaults, has now been fully consummated in the form of this box set. Infinite gratitude to New West for pulling out all the stops on this project. Records that were squeezed onto one disc in the vinyl-as-an-afterthought 90s have all mushroomed into doubles, and I can truthfully say that it's like hearing them for the first time. With really beautiful liner notes by our pals Drew Daniel and Jason Pierce, and a bonus LP of personal favorite, unreleased recordings from the band's own vault, this thing is the mother lode for Acetone fans. Salut!"
The box set is available to pre-order here.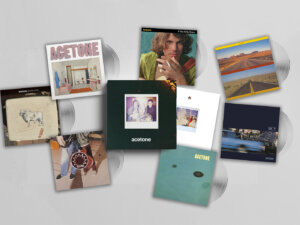 Acetone EP:
I'm Gone 

For A Few Dollars More
D.F.B
Cindy
Cindy:
Come On
Pinch
Sundown
Chills
Endless Summer
Louise
Don't Cry
No Need Swim
Barefoot On Sunday
I Guess I Would:
Juanita
The Late John Garfield Blues
I Guess I Would
Sometimes You Just Can't Win
All For The Love Of A Girl
How Sweet I Roamed
Border Lord
If You Only Knew:
If You Only Knew
I Don't Really Care
In The Light
I've Enjoyed As Much Of This As I Can Stand
The Final Say
When You're Gone
Hound Dog
99
What I See
Nothing At All
Esque
Always Late
Acetone:
Every Kiss
All The Time
Germs
Might As Well
Shobud
All You Know
Good Life
Dee
Waltz
Another Minute
So Slow
Chew
York Blvd.:
Things Are Gonna Be Alright
Wonderful World
19
Vibrato
Like I Told Yoou
It's A Lie
Bonds
One Drop
Vaccination
Stray
Prime Cuts:
O.I.E (If You Only Knew outtake)
Shaker (York Blvd. outtake) *
Nobody Home (demo) *
Vibrato (demo) *
Nothing At All (live on CJAM 99.1 FM) *
No Need Swim (demo) *
Cindy (live at the Lizard Lounge, Cambridge, Massachusetts, May 30, 1998) *
York Blvd. (rehearsal tape) *
She Belongs To Me (rehearsal tape) *
* previously unreleased