All copies of Uncut's April 2022 issue come with a free, 15-track CD – Dancing Days.
HAVE A COPY OF UNCUT SENT DIRECT TO YOUR DOOR
The CD is the latest in our new music samplers, bringing together 15 tracks from artists who you can read about elsewhere in the issue – either in our bulging reviews pages or among the features.
The CD is free with all copies of Uncut – both in the UK and overseas.
Here, then, is your guys to Dancing Days…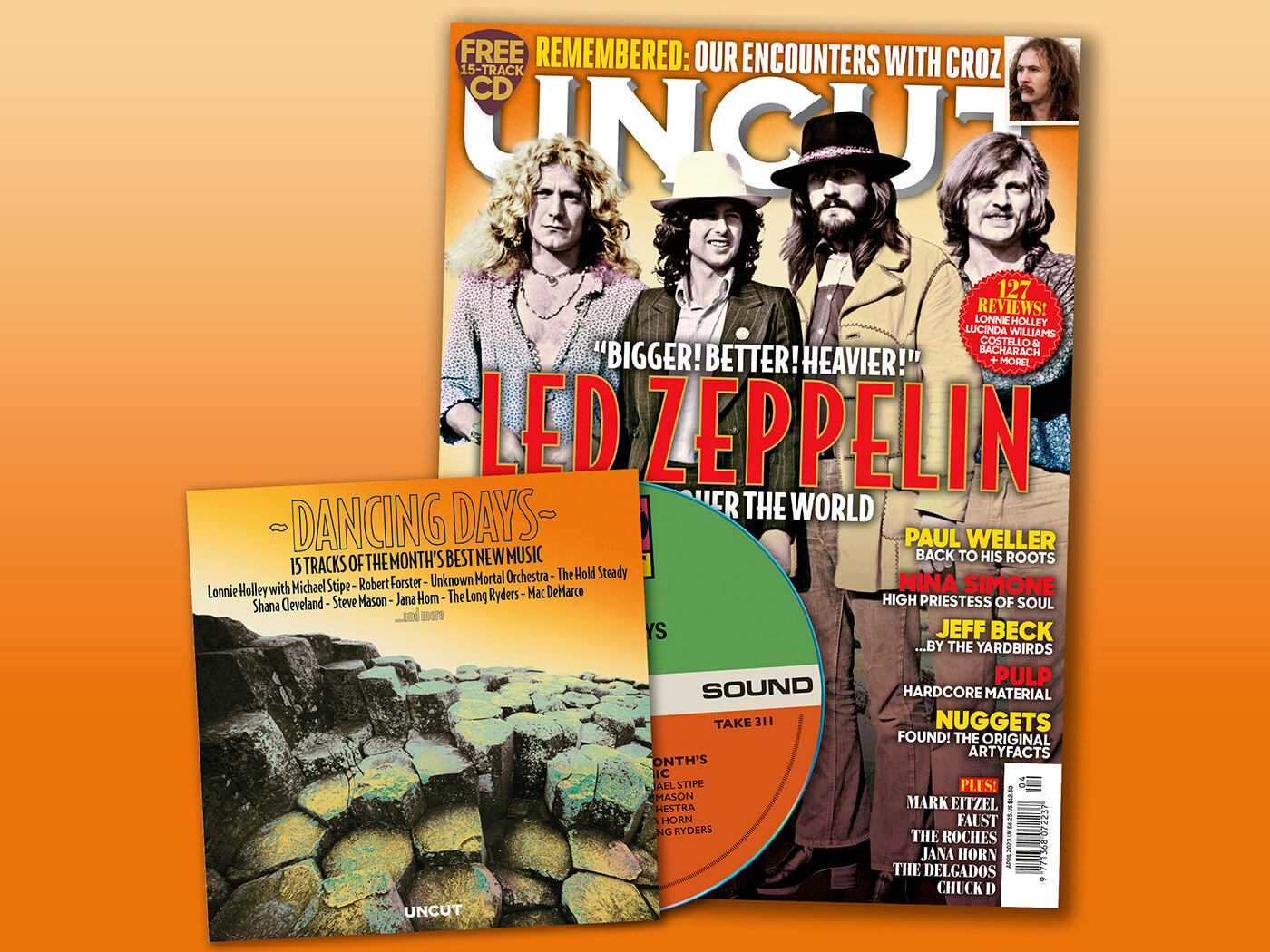 1 JANA HORN
Leaving Him
Our CD opens with this hushed, hypnotic ballad from the Texan's new album. "I wrote it with some women in my life in mind," she tells us. "I had this daydream that they would get out of their situations with men. It's a song of wishful thinking." Read more on p60.
2 SHANA CLEVELAND
A Ghost
What's always made La Luz intriguing is the dark undertow to their short, lo-fi surf jams. For her second solo album, Cleveland has embraced those quieter, eerier qualities – ably demonstrated on this beguiling song about a spectral guest seeking to "come through" and connect with the living.
3 MAC DeMARCO
Crescent City
These instrumental recordings were made while on a road trip around America last year. Built on a loping rhythm and gentle chord progressions, the languid momentum of "Crescent City" evokes travel through wide-open spaces taken at a gentle pace.
4 LONNIE HOLLEY
Oh Me Oh My (with Michael Stipe)
This graceful, atmospheric song finds the American one-off divining deep miracles in his grandmother's love for a favourite hymn. "'Oh me, oh my' has been a statement, whether or not we'll have to translate it from different languages, that's probably been spoken all over the world," explains Holley.
5 ROBERT FORSTER
Tender Years
Forster's homage to Karin Bäumler, his wife – "Her beauty has not withered" – has inevitably assumed unintentional pathos since her diagnosis with ovarian cancer after most of Forster's new album, The Candle And The Flame, was written. Forster's nimble melodies and spry lyrics endure; sustenance during difficult times.
6 STEVE MASON
The People Say
Mason's latest is a typically warm and unfussy affair, bathed in open-hearted melodies and buoyed along by chiming guitars and uplifting piano chords. Essentially, "The People Say" reinforces a sense of a continuum in Mason's work, as if the same stuff has been flowing out of him, with barely perceptible shifts in quality, for almost 25 years.
7 BILLY VALENTINE
Home Is Where The Hatred Is
During the '70s and '80s, Valentine worked as a songwriter for hire and, as one half of the Valentine Brothers, wrote and recorded "Money's Too Tight (To Mention)". Valentine returns to his roots for his latest, excellent album covering the likes of Stevie Wonder, Eddie Kendricks and, on this song, Gil Scott-Heron.
8 EDDIE CHACON
Step By Step
Another returning veteran: in this instance, Eddie Chacon, formerly of '80s neo-soul duo Charles & Eddie. This languorous, jazz-flecked confessional "reflects my own journey", Chacon explains to Uncut. "It's about slowly breaking through your own self-imposed limitations and following your heart."
9 UNKNOWN MORTAL ORCHESTRA
Layla
Although the song's title may raise an eyebrow, Ruban Nielson's loose, sun-dappled ode to escape – "Let's get out of this broken place" – is in fact a tribute to his uncle. "He is mostly credited with inventing the Hawaiian style of reggae," says Nielson. "My brother Kody [who co-wrote the song] and I tried to figure out a way to think about that style and pay tribute to it, but in a new way."
10 ROGÊ
Pra Vida
Having emigrated to LA, Rio de Janeiro native Roger José Cury returns with his swinging but scuffed-up take on Brazilian soul. Arthur Verocai's strings swell and acoustic rhythms dominate, while Rogê's undoubted charisma bursts through on this uplifting and forward-looking track.
11 MAX JURY
Real World
The latest endeavour from Iowa's Max Jury is more of the polished Americana-soul-country terrain he's been navigating since his 2016 debut. This comes with a pleasingly Floydian whoosh, though the influence of Gram Parsons and Randy Newman is never far away in the scheme of things.
12 THE VEILS
Bullfighter (Hand Of God)
The first sign of activity from Finn Andrews and his rapscallious compatriots since they appeared in the 2017 Twin Peaks revival – Andrews broke his wrist, necessitating a lengthy hiatus. This raucous track channels some of the tent-revival theatrics of early Bad Seeds, but Finn's own indomitable character emerges, bruised by not bowed, from within the sound and fury.
13 THE LONG RYDERS
Seasons Change
The beloved Paisley Underground veterans are at their wonderful Byrdsian best with this open-hearted tribute to their enduring friendships. "It came from us thinking about how much we mean to each other, having been a band for so long and finding each other again relatively recently," they tell us.
14 THE HOLD STEADY
Sixers
A taster for The Hold Steady's forthcoming album, The Price Of Progress. "She ordered me a Newcastle and handed me a Marlboro…" begins Finn, spinning a wry, hardboiled yarn about rock bands that unfolds against a typically rumbustious backdrop. "She said, 'We're gonna do a show at the Pyramids…'"
15 LONDON BREW
Miles Chases New Voodoo In The Church – Single Edit
We close this month's CD in electric fashion with the cream of British jazz heads – including Shabaka Hutchings, Nubya Garcia, Theon Cross and Tom Skinner – who've recast Miles' Bitches Brew with predictably powerful results. Much like Uncut, this succeeds in finding fresh insights on great artists.
HAVE A COPY OF UNCUT SENT DIRECT TO YOUR DOOR