Interviewed exclusively in the new issue of Uncut, on sale from March 9, Peter Gabriel unveils his ambitious plans for i/o — his first album of new music for 20 years. Gabriel reveals why he's chosen to release a new track on every full moon, how many songs he currently has on the go and confides that he might continue to release new music every full moon even after i/o has come out. He also discusses infinitely expandable data globes, humankind as "sex machines" for sentient robots and attending the final Genesis concert in 2022…
The issue also comes with a limited edition Collector's Cover, which is only available direct from the Uncut store
.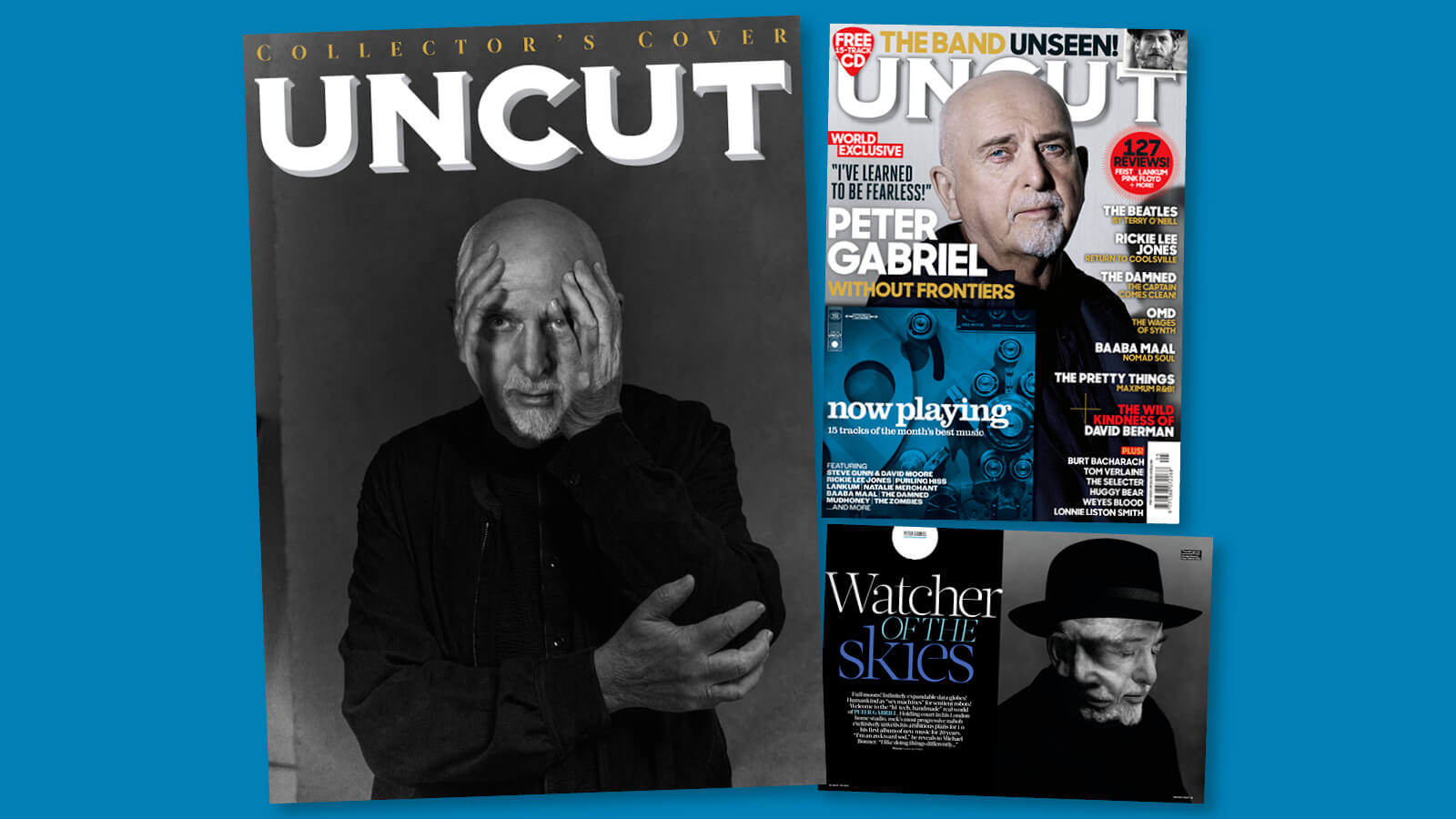 In this extract from our exclusive cover feature, Gabriel explains why he might consider releasing music indefinitely and how his new track "Playing For Time" – which has existed in one form or another for a decade – "asks more questions than it answers"…
It is a chilly afternoon in mid-January, exactly halfway between the Wolf Moon and the Snow Moon, at the very beginning of the year's lunar cycles. Peter Gabriel is sitting in his studio, a retreat and laboratory for the 72-year-old nestled in his West London home. Filled with synthesisers and keyboards, microphones and monitors, the space is as dark and cluttered as Gabriel's ideas are bright and expansive. "It's a real mess," he says. "But it works."
In 2023, this is very much Peter Gabriel's modus operandi. A successful musician, with no traditional record company and unlimited studio time either at home or his Real World base, Gabriel is not mandated to create by anybody. If anything, he is now cosmically bound by the cycles of the moon. Gabriel is embarking on his latest adventure – a grand scheme to release a new track on each full moon, which will culminate later this year with the release of i/o, his first album of new music for 21 years.
As it transpires, Gabriel has other ideas percolating. "If I have the stamina, I may just keep going," he says. "I'm an awkward sod. I like doing things differently, if I can. I'm 72. At this point, it doesn't matter what other people say. I listen, still, to people who I think are wise and smart and have good taste. Generally, though, I'll end up doing what I think will be either fun or interesting."
Why choose "Panopticom" as the first single? How does it set the scene for i/o?
It was cooking nicely and I thought that it might make a good candidate for opening things up, but I don't think it indicates a style for the rest of the record. To my ears, the record sounds very different track by track. Obviously, from the inside, it always looks more different than from the outside, but I think some styles feel more futuristic, some retro and some textural… The album's got quite a lot of different colours. There's four or five up-tempo songs. It depends on what ends up being chosen for the album. There's still quite a few question marks. But I may just keep going. That's another thought!
You mean keep releasing new music every full moon?
Yeah, month by month. There's going to be a surplus. There are some other songs that have been started. Then there were a couple that got released in the interim period. There was a track for [Oliver Stone's 2016 biopic] Snowden called "The Veil". There was another one, "Why Don't You Show Yourself", for a film about religion and atheism called Words With Gods. Nothing happened with those tracks, so it'd be quite nice to stick those on a record at some point. But there's probably 20 or so new things. So I'll see where we get to with those. If I have the stamina, I may just keep going…
The third single from i/o, "Playing For Time", is another change of direction. The lyrics appear very reflective. "I'm getting it down, sorting it out, so everything I care about is held in here". Is this age and experience talking?
When I was performing it before, on tour, I tried some different lyrics and a couple of different subjects for the song. But the sense of time and memory, dreams, reflections emerged later on, I think, the third time round. The end bit, which is new and I didn't play live, felt like an important conclusion to the song. I guess it still asks more questions than it answers, but it feels to me a more complete journey. Ed Shearmur did an amazing job on the arrangements. I was quite moved the first time I heard that end string section. There's one line that really gets me going. So, I think now it is a better journey than when I was doing it first. I'm pleased with it – I think it will outlive me.
ORDER NOW: CLICK HERE TO BUY THE NEW UNCUT