All copies of Uncut's May 2023 issue come with a free, 15-track CD – Now Playing.
HAVE A COPY OF UNCUT SENT DIRECT TO YOUR DOOR
The CD is the latest in our new music samplers, bringing together 15 tracks from artists who you can read about elsewhere in the issue – either in our bulging reviews pages or among the features.
The CD is free with all copies of Uncut – both in the UK and overseas.
Here, then, is your guys to Now Playing…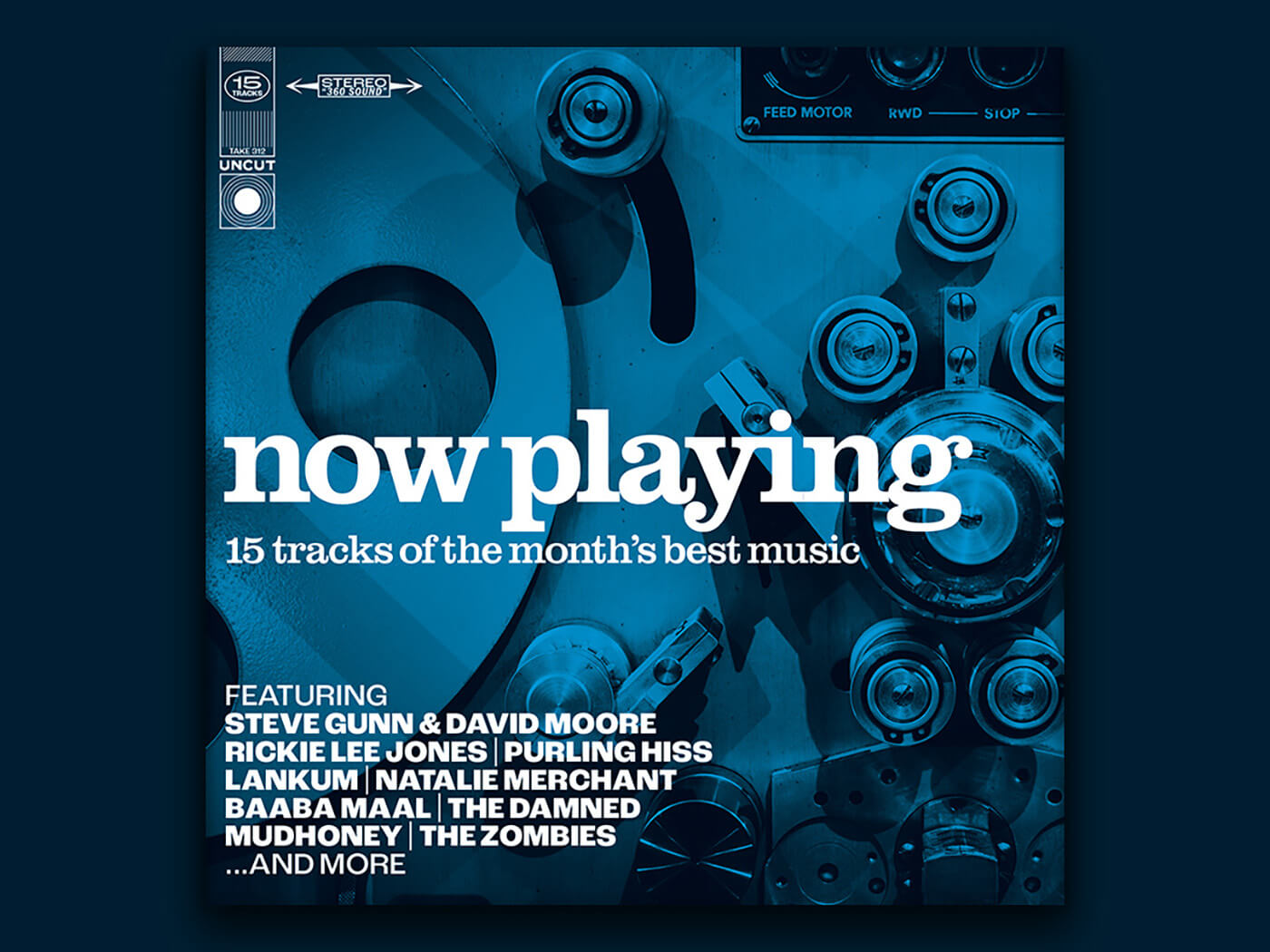 1 STEVE GUNN & DAVID MOORE
Painterly
This New York-based duo's first collaboration, Let The Moon Be A Planet, is a soothing tour de force; a blissful, questing mix of Gunn's nylon-string guitar and Moore's piano, it's unlike anything the pair have done before. Read our lengthy review on page 29.
2 SISSOKO SÉGAL PARISIEN PEIRANI
Banja
Most likely boasting the first ever lineup of kora, cello, accordion and sax, this outfit led by Ballaké Sissoko and Vincent Ségal twist and turn through a global mix of folk and jazz flavours. Here's one highlight from debut LP Les Égarés.
3 RICKIE LEE JONES
Just In Time
Pieces Of Treasure is Jones' vibrant, original take on the American Songbook, recorded in New York with her early collaborator Russ Titelman. Check out our full interview with Rickie Lee Jones on page 58.
4 EMMA TRICCA
Autumn's Fiery Tongue
Teaming up again with Sonic Youth's Steve Shelley, the London-based singer-songwriter has crafted her finest album yet with Aspirin Sun. The folk-rock branches of each song gradually unfurl, especially on this epic piece.
5 NATALIE MERCHANT
Come On, Aphrodite
Keep Your Courage, almost a decade in the making, finds Merchant as witty and welcoming as always, turning her gaze to what helps us endure life's ups and downs. Here's a gospel-tinged highlight.
6 SPENCER CULLUM'S COIN COLLECTION
Betwixt And Between
The most successful – and probably, only – Romford-born pedal-steel star in Nashville, Cullum continues his psych-folk explorations on his second album with his Coin Collection pals. Co-written with Andrew Combs, this track is the record's tender heart.
7 LANKUM
The New York Trader
False Lankum is a stunning record that mixes the traditional and the modern without compromise. Conceived in a 19th-century Martello tower near Dublin, the album is reviewed at length on page 24.
8 BAABA MAAL
Boboyillo
Head to page 52 for a fascinating, moving journey through Senegal with this African superstar, as you check out this cut from his new album Being, a brave mix of
cutting-edge electronica and traditional sounds.
9 FRUIT BATS
Rushin' River Valley
Eric D Johnson, also of Bonny Light Horseman, takes his solo psych-pop into a more traditional Americana field on new LP, A River Running To Your Heart. As our review on page 28 puts it, this track beautifully takes the Dead's American Beauty as its sonic blueprint.
10 THOSE PRETTY WRONGS
New September Song
Big Star's drummer Jody Stephens knows a thing or two about power pop, and so Holiday Camp, his third collaboration with Luther Russell, naturally displays a dreamily autumnal mastery of the form. Here, crickets soundtrack Stephens' bittersweet musings.
11 THE DAMNED
The Invisible Man
While the original briefly reformed band took the spotlight recently, Darkadelic showcases the work of the current lineup. Galloping, richly psychedelic and thrilling, it marks them out once again as peers of Hawkwind more than the Sex Pistols.
12 MUDHONEY
Move Under
Returning with Plastic Eternity, their first album in five years, the 'honey are as silly, trashy and plain exciting as they ever were. They're poking fun at others as much as themselves here, making this one of their best in decades.
13 PURLING HISS
Drag On Girard
Mike Polizze's hushed solo work hasn't infected Drag On Girard, the latest by his trio, who remain in love with fuzz and the power of garage rock. There are moments of reflection, but they never overwhelm the white-hot noise.
14 THE ZOMBIES
Merry Go Round
Over 60 years after they formed, The Zombies' primary pairing, Rod Argent and Colin Blunstone, are still making fine records. Different Game expands their sound with hints of Steely Dan-ish sophistication, but the duo's fingerprints are clear.
15 NORTH AMERICANS
The Last Rockabilly
We close this month's CD with a dusky piece of ambient Americana from Patrick McDermott and Barry Walker. Country-folk sent into space aboard Eno's Apollo, it's a perfect encapsulation of their new record, Long Cool World.
HAVE A COPY OF UNCUT SENT DIRECT TO YOUR DOOR